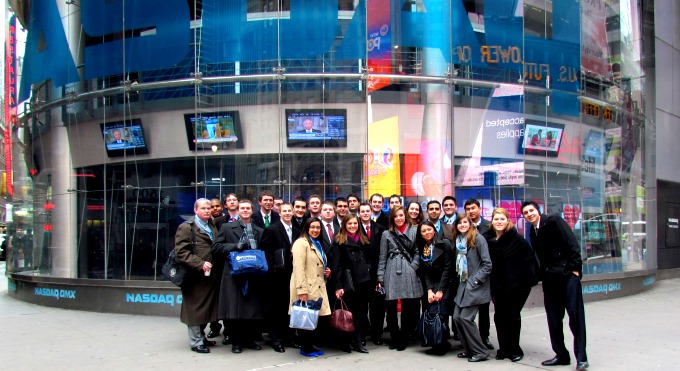 For International Business major and minor requirements, please visit the course catalog.


Why Study International Business at Westminster?
Having been the scene for international speakers and events for decades, Westminster offers the perfect environment for the study of the world as well as business.
Westminster College regularly hosts prominent business leaders such as Hugh Grant, the CEO of Monsanto Corporation, that give compelling speeches and insight into international business beyond theory.
Westminster offers a great environment for mixing with people of many cultures and political backgrounds. Almost ten percent of Westminster's student body comes from over 65 countries.
Often, Westminster's International Club will give presentations to the student body on global issues and their cultural perspective of the political situation.
The Westminster faculty, too, offers a diverse and rich experience for students as they have traveled to, studied in, and lectured in academic institutions and places throughout the world.
Every element of the International Business Program at Westminster will make you an asset to any organization. The knowledge of language, culture, business and politics that you gain will qualify you to work in a large multinational corporation, the U.S. government, or an international not-for-profit organization. The education you receive at Westminster will also place you at the forefront of applicants to any graduate school.
Plus, Westminster's business program accreditation through ACBSP ensures you receive a top-quality education, recognized nationally by employers.
Cool Classes
Principles of Marketing: RUN a business on campus
Entrepreneurship: DESIGN your own business or help a local entrepreneur
Investments: PLAY the stock market!
Business Policy: RUN a simulated global company in direct competition with other students
Beyond the Classroom
Join the Blue Blazers Investment Club, a student club that works with a broker to invest real money. You can learn to analyze investment opportunities and watch the results of your work.
Join Phi beta Lambda, the college version of the Future Business Leaders organization.

Or you can host speakers and engage in academic competitions with regional and national colleges and universities.
Westminster is a (Students in Free Enterprise) SIFE affiliate.

Career Opportunities
An International Business Degree can make you a prime candidate for any prestigious law school.
Just knowing a foreign language multiplies your job prospects, and more importantly, often gives your starting salary a nice hike!
Graduate programs are available across the country for a further study at the masters and doctoral level.
Contact Information

Name: Dr. Rabindra Bhandari
Position: Tenured Associate Professor Economics, Accounting, Business, Economics and MIS
Office: Room 208, Westminster Hall
Email: Rabindra.bhandari@westminster-mo.edu
Phone: 573-592-5204

Meet the Faculty

Sonia Manzoor, Associate Professor of Economics
William John Carner, Associate Professor of Business
Rabindra Bhandari, Tenured Associate Professor of Economics
F. S. Phelps, Associate Professor
Elise Bartley, Assistant Professor of Accounting

International Business News

Check out what Westminster IB students and alums are doing and get department updates.
International Business News