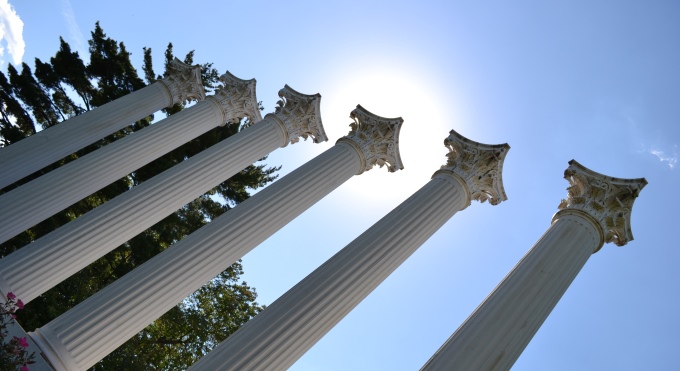 For requirements, please visit the course catalog.

Why get a Leadership Minor?
Many of the most respected leadership studies scholars note that the world is crying out for leaders. Westminster is preparing students, both in the classroom and outside the classroom, to unleash their potential in order to become leaders and improve their communities and organizations.
A formal study of leadership prepares you for leadership. It makes a bold statement to employers and graduate schools that you are not just a number in the crowd, but instead, are prepared to have a life of significance and service.
Leadership involves working with people to achieve mutually beneficial goals. Employers and organizations can find people with knowledge competency. Having leadership competency gives you an edge.
Leaders are needed globally, and all of us are increasingly being asked to think globally. Leadership studies help students develop critical thinking and leadership skills while understanding the value of diverse cultures and people.
A leadership minor is an excellent supplement and credential booster to any major.
Minor Highlights:
The Leadership Minor covers formal leadership theories and thoughts. At the same time, it recognizes the importance of organizations, historical concepts, ethics, and other areas that strengthen the competencies of a leader.
Leadership studies combine formal study with opportunities to become involved in leadership activities.
Emphasis on how to apply leadership thoughts and ideas allows the students to see how leadership is important and how to apply their leadership skills and knowledge.
Major Options
Through the Committee Plan, students can major in leadership studies or develop a major that incorporates aspects of leadership along with other areas such as youth development, education, business, and others.
If you are interested, you should contact the Center for Leadership & Service to learn how you can major in an area of leadership studies.
Cool Classes:
Leadership Theories & Applications - You will gain new insights into yourself and working with others. A foundation course upon which you will build.
Leadership Mentoring or Internship - This capstone course offers a real chance to demonstrate your leadership skills and knowledge. The course builds confidence and illustrates that you are ready to fill leadership roles beyond Westminster.
Service Courses - several courses incorporate community or organizational service into the course. This is a fun way to learn about leadership and organizations while feeling good about serving others.
Other Experiences:
The Leadership Certification program is available to all students, regardless of major or minor. It is a program that combines course work and leadership experience with co-curricular experiences. The program demonstrates that students have planned their college experience in order to obtain the most from the time at college.
Students can investigate internships that emphasis leadership development. Internships are a way to gain an edge on the competition as you gain valuable experience.
A chapter of Omicron Delta Kappa, a national honorary leadership society, allows you to gain recognition as you strengthen your credentials.
The campus has numerous opportunities to serve in a leadership role. It is easy for you to become involved in meaningful ways.
Career Opportunities?
All fields of employment need leadership. Leadership skills are what employers seek in new employees.
Developing your leadership skills and knowledge often opens the door for career advancement and exploring new and exciting aspects of the career of your choice.
Contact Information

The Emerson Center for Leadership & Service
Hunter Activity Center
573-592-6045; Fax: 573-592-6049
or Email margie.lechner@westminster-mo.edu
Leadership News
Check out what Westminster leadership students and alums are doing and get leadership department updates.

Leadership News