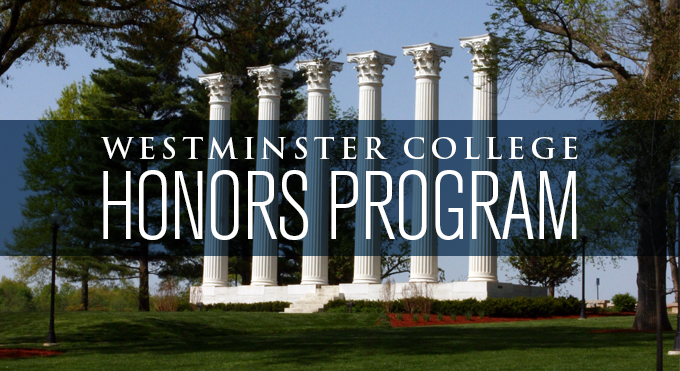 Sir Winston Churchill made history here in 1946 with his famous "Iron Curtain" speech. You can make history by applying to be a Westminster College Honor Program Scholar. All incoming freshmen and many transfer students have the opportunity to apply for a place in the prestigious Honors Program. The Westminster College Honors Program is designed for high achieving students who want a challenge above and beyond the normal college experience.
Westminster College Honors Program Features:
A multi-year experience with interdisciplinary coursework.
Opportunities to apply advanced theories about global issues outside of the classroom.
Participation in advanced seminars and off-campus events as a group.
Behind-the-scenes access to distinguished on-campus guest speakers.
One-on-one attention from faculty including informal coffeehouse-style chats.
The program culminates in highly specialized graduate school-type research or individual projects. Students who graduate from Westminster College via an "Honors Thesis" or "Honors Project" will yield personal growth plus increased potential for top graduate and professional schools or employment with some of the nation and region's best organizations.

Future Candidates:
Incoming new students (freshman or transfer) are eligible.
The strongest candidates should have a minimun high school GPA around 3.5/4.0 or a minimum college GPA around 3.4.
Students looking for a unique opportunity for scholarly growth and development.
If you want to build upon your leadership and academic accomplishments, please complete the application below. Within the application, you will be required to submit an essay. Please refer to the essay requirements below:
How your previous academic and intellectual experiences (both in an out of school) have made you a strong candidate for our Honors Program.
How an Honors Program would benefit you in terms of your academic and career goals.
How you will personally make positive contributions to the Westminster student body.
Apply Now for the Honors Program
For more information about the Honors Program, please contact:
Dr. Heidi LaVine Heidi.Lavine@westminster-mo.edu
Honor Program Director
Meet Dr. LaVine

The Honors Program is part of The Churchill Institute at Westminster College.