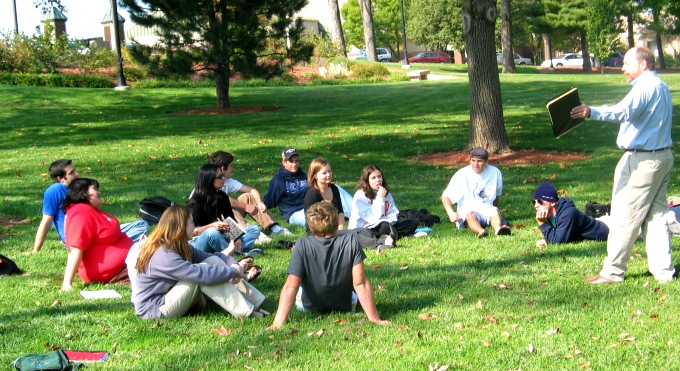 What is the best way to help new students adjust to college life? Westminster has its own answer.
Westminster Seminar, WSM 101, is a class each new student takes. These classes are taught by Westminster faculty members on a fun topic of their choice - anything from Sci Fi movies, to the Olympics, to art and culture, to Harry Potter.

The purpose of Seminar is to help student adjust to college academically through the study of a fun and unique topic and to develop connections among classmates, mentors, and faculty members that will last throughout a student's college career.
How Westminster Seminar Works
While enrolling, every entering freshman reviews the list of seminar topics offered and selects his or her top three choices. Students are then grouped into Seminar sections together based on common interests.
During New Student Days before classes begin, students get to meet their fellow Seminar classmates, learn the expectations and traditions of the College, and raise the curtain on their college life. If you're nervous about making friends or beginning your coursework -- this is a great place to start.
Throughout the semester, students work closely with their Seminar faculty member who also serves as their temporary academic advisor until they declare a major. Upperclass student mentors also assist in each Seminar section.
In class, students learn how to read analytically, think critically and communicate effectively. Outside the classroom, students participate in diverse activities such as field trips, service projects, concerts and lectures.

Transfer Students
Transfer students will enroll in a special transfer section of this Westminster Seminar (WSM 102) during their first semester at Westminster, which help them adjust to Westminster in a similar way.
Why WSM 101?
Organized around student interests, the Westminster Seminar groups are integrated by common objectives and shared readings. By using active learning strategies, students learn the processes, tools and systems for scholarly inquiry, which prepare them well for Westminster's rigorous academic environment.
Westminster Seminar also helps students evolve socially. Frequent opportunities of in-class and out-of-class group-work help students develop a strong sense of community. Some Seminar sections even reside near each in living groups, strengthening the bond and helping the student develop holistically.

Recent Westminster Seminar Topics
You Are What You Eat! An Exploration of Food in Nutrition and Culture
Media Tricks: Critical Thinking in the Real World
Extreme!
Today's Worldwide Terrorism
Going Crazy– Being Sane
What Einstein Told His Cook
Sources of the Flood: The Genesis of the Information Age
All Things French
The Hunger Games: Questioning the Social Order
The American Jury System on Trial
Riotous Art: Culture, Politics, and Controversy
The Study of Poverty
The Modern Olympics – Athens to Rio
Spaceship Earth: A Voyage into Sustainability
Women and Men in Sports in American Culture