The Spiritual Life Office at Westminster is run by Jamie Haskins, our campus Chaplain as well as Kiva Nice-Webb, our Chaplain Resident.


 JAMIE HASKINS


Biography

Rev. Jamie Haskins currently serves as Director of Spiritual Life, Chaplain and Instructor of Religious Studies at Westminster College. She is an ordained minister in the Christian Church (Disciples of Christ). She earned her undergraduate degree, a Bachelor of Arts in English and Religious Studies, from Stetson University in Deland, Florida and completed her graduate studies at Vanderbilt Divinity School in Nashville, Tennessee where she graduated with a Master of Divinity in 2009.While at Vanderbilt, she was involved in a living wage campaign for Vanderbilt Employees and was co-founder of the Economic Empowerment Coalition, an organization devoted to bridging issues of economic justice with local congregations. She was also co-chair of the Divinity School's Office of Women's Concerns.

Following her graduate studies, Jamie was awarded a "Minister in Residence" position through the Transition into Ministry program, funded by the Lilly Endowment for Theological Education. The residency was developed and directed by the Congregational Immersion Project, based out of the Disciples Divinity House at Vanderbilt. As a result of this residency, Jamie served as the Minister of Faith Formation and Social Justice at University Christian Church (Disciples of Christ) in Seattle, Washington from 2009 to 2011.

Jamie is passionate about cultivating, promoting and sustaining an active life of faith that centers on social justice, inclusion, and radical hospitality. In addition to her campus and church ministries, she has also served as a community organizer and social activist, working with organizations such as Tennesseans Against the Death Penalty, Jobs with Justice, and Interfaith Worker Justice.

Jamie lives with her spouse, Sarah Klaassen, in Columbia, Missouri where Sarah serves as the Pastor of Rock Bridge Christian Church (Disciples of Christ). When not at work, Jamie and Sarah can be found hiking, biking, camping or engaging in other activities that allow them to explore the beautiful back roads of Missouri. 
 

Kiva Nice-Webb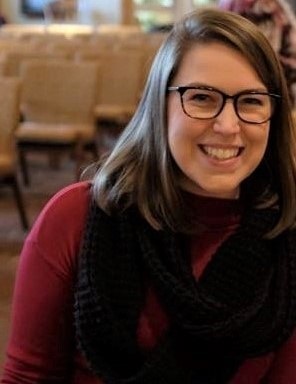 Title: Chaplain Resident and
Coordinator of Community Engagement
Department: Center for Faith & Service
Location: 329 W 7th Street
Phone: +1 (573) 592-6213
Email: kiva.nice-webb@westminster-mo.edu


Biography
Kiva Nice-Webb serves as the Chaplain Resident at Westminster College. Kiva received a Bachelor of Arts in Religious Studies and a minor in Theater Arts from Elon University in North Carolina. While in Elon, Kiva completed an honors thesis entitled "The Hybrid Saint: Reading Brigit through a Postcolonial Lens," a version of which was later published in the Journal of Theta Alpha Kappa.
Upon graduation from Elon, Kiva moved to Chicago's West Side as part of DOOR, a faith-based, year-long voluntary service program. Through DOOR, she served for two years at Sarah's Inn, a domestic violence agency, developing and facilitating violence prevention curricula in Chicagoland middle schools. In 2017, Kiva earned dual degrees, Master of Divinity and Master of Arts in Social Service Administration, from the University of Chicago.
In her Master of Divinity program, Kiva completed a year-long pastoral internship at Ellis Avenue Church, a multicultural and economically diverse congregation on Chicago's South Side, as well as one unit of Clinical Pastoral Education at Northwestern Memorial Hospital, a Level-1 trauma center in Chicago. As a clinical student in Social Service Administration, Kiva worked with Step Up, a mentoring non-profit for teen girls, and practiced clinical social work on Advocate Illinois Masonic Medical Center's in-patient psychiatry unit.
Kiva is Mennonite and has held various church leadership positions, serving multiple terms as worship committee chair with Chicago Community Mennonite Church and working on a task force for Mennonite Church USA's Central District Conference (CDC), which produced the document "Human Sexuality: A Biblical Perspective" in 2015. While at Westminster, Kiva continues to serve on CDC's Missional Church Committee. When not working at the Center for Faith and Service, Kiva enjoys singing, playing piano, hiking and reliving her years as coffee barista.