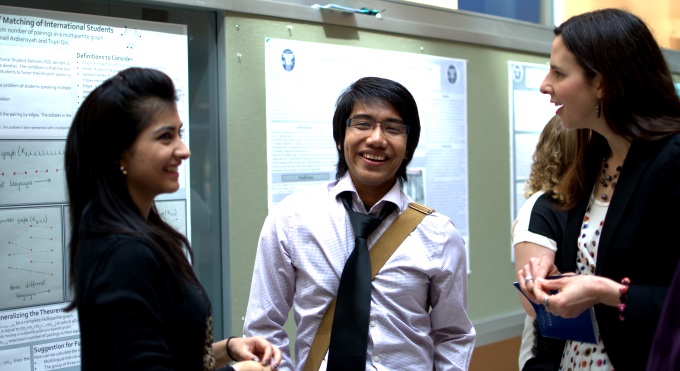 For major and minor requirements, please visit the course catalog.
Why Study Business Communication at Westminster?
Learn about communication in a variety of contexts - public address, interpersonal relationships, interviewing, journalism, organizational communication, and more
Get real life communication experiences from interviewing off-campus professionals to conducting a public relations campaign on campus to writing for the College newspaper
Proficiency in communication skills (speaking, writing, listening) are the top qualifications in getting a job right out of college
Multiple alumni have said they feel as prepared for the business world as - or more prepared than - graduates of big-name universities
Major Highlights
Students study the communication process from a variety of perspectives-media relations, business, management and communications philosophy. Students receive a hands-on, real world applicable approach to the field. They learn the importance of communicating with different audiences in different ways. Students pursue three different academic paths within the major: oral communication, written communication, and visual communication.
Cool Classes
The business and professional communication capstone class places students in real life situations they will face in their careers and provides them with the tools they need to be successful in handling those situations. One of the class work options open to students in this major is a photography class.
Other Experiences
Students will have the opportunity to write for the student newspaper, The Columns.
Career Opportunities
A business communication major gives graduates the opportunity to select from a wide range of professional fields, including public relations, media relations, advertising, public affairs, teaching, speechwriting, event planning, and law.
| | |
| --- | --- |
| | "Through this process, I've found confidence in myself by pulling out an internal strength and drive that I've never truly had to use before. I learned to develop and utilize this found strength and confidence in myself not only as a student but as a leader and as an individual. This project made me keep my head down, and when I was finally ready to raise it back up, I had developed the courage and skill to know what I was doing. This is one of the best lessons I learned in college." Katie Hasenmueller, Class of 2012 |
Meet the Faculty

Keith Hardeman, Professor Speech Communication
Selcen Phelps, Associate Professor Management and MIS, W.G. Buckner Endowed Chair in Business
Sonia Manzoor, Associate Professor of Economics
William John Carner, Associate Professor Business
Rabindra Bhandari, Tenured Associate Professor Economics
Robert Eames, Assistant Professor
Elise Bartley, Assistant Professor Accounting

Contact Information

Name: Keith Hardeman
Position: Professor Speech Communication
Office: Room 229,Westminster Hall
Email: Keith.Hardeman@westminster-mo.edu
Phone: 573-592-5203

Business Communication News

Check out what Westminster BC students and alums are doing and get BC department updates.
Business Communication News