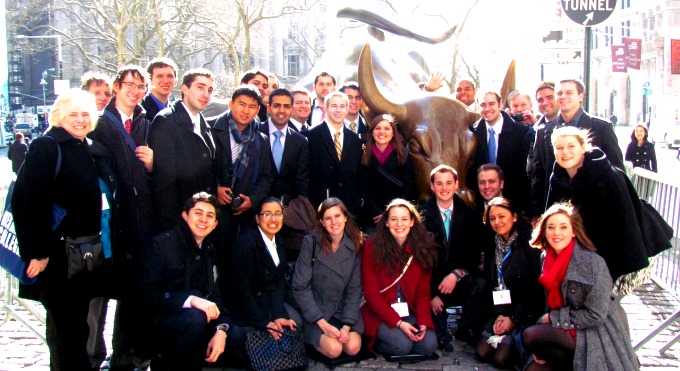 For Business major and minor requirements, please visit the course catalog. In the above photo, Westminster students in the Blue Blazers Investment Club take a photo on Wall Street.
Why Study Business Administration at Westminster College?
"With the guidance and help that I received from the faculty at Westminster, I was able to secure a job one year before graduation, was able to work on multiple research papers, and also present at multiple different conferences both on and off campus." - Pradipti Rajbhandari, Class of 2012, Assurance Staff at Ernst & Young
At Westminster, your Business Administration education will cover four major areas ...
Westminster's business program accreditation through ACBSP ensures you receive a top-quality education. ACBSP is the only organization offering specialized business accreditation for all degree levels, and having this accreditation ensures the quality of the Westminster curriculum, faculty and educational processes is among the best in the nation. ACBSP accreditation sends the message to employers, licensing bodies and regulatory agencies nationwide that Westminster undergraduate business programs meet the most rigorous educational standards.
How will you learn?
Through real-life application: Develop business plans, conduct market analyses, conduct HR audits, and more.
With fun and competitive spirit: Play the stock market. Join the Blue Blazers Investment Club, a student organization that works with a broker to invest real money.
With an eye on your career: Rise above the competition in the job market through Westminster's emphasis on communication and interdisciplinary classes (political science, history, economics).

| | |
| --- | --- |
| | "I believe the professors at Westminster College pride themselves on not producing the so-called "carbon copy" student, but instead expect their students to challenge and critically analyze already established theories and principles." - Shannon Baker, Class of 2014 |
Contact Information
Rabindra N. Bhandari, PhD,
John E Simon Endowed Professor of Economics and Chair
Accounting Business Economics and Finance
Westminster College, 65251

Meet the Faculty

Sonia Manzoor, Associate Professor of Economics
William John Carner, Professor Business, William Gordon Buckner Endowed Chair in Business
Rabindra Bhandari, John E Simon Professor of Economics and Chair
Robert Eames, Assistant Professor
Carter Campbell, Visiting Instructor of Accounting

Business Administration News

Check out what Westminster BA students and alums are doing and get BA department updates.
Business Administration News

Public Information
Click here to view the Business Major Rentention Rates and Placement Rates.
Click here to view the Major Field Test Results.