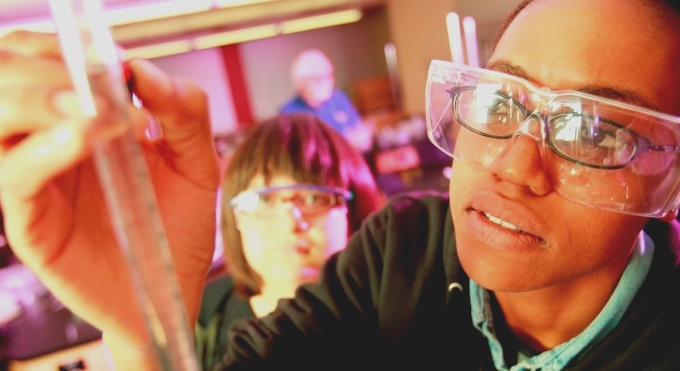 For Chemistry major and minor requirements, please visit the course catalog.

Why Study Chemistry at Westminster?
Experience small, modern classroom settings with lectures, seminar-styled discussions, and accompanying laboratory activities conducted by professors, not teaching assistants.
Work directly with professors as an undergraduate conducting hands-on research with top-notch equipment in Westminster's new state-of-the-art science facility.
Receive hands-on experience with all laboratory equipment, including state-of-the-art instruments such as the FT-IR, GC-MS, HPLC, DSC, NMR, and UV-Vis diode array spectrometers.
Gain a broad range of intellectual skills and scientific background that enables you to take numerous paths to your career goals.
Major Highlights
Chemistry is often called the "central science" since the basic principles of chemistry are closely related to all other areas of science. Westminster's chemistry program prepares you for success-not only in the field of chemistry but also in many science-related occupations. Students majoring in chemistry take one-year course sequences in general, organic, analytical, and physical chemistry. In addition, they also take inorganic chemistry and complete at least one upper level course such as biochemistry, medicinal chemistry, or chemical kinetics. This approach enables you to focus on the specific aspects of chemistry that interest you most.
Cool Classes

You don't have to wait until graduate school at Westminster to get involved in research projects and you don't have to work with a graduate assistant. You can work directly in partnership with your professors, gaining valuable experience with top-notch equipment in Westminster's new state-of-the art science facility - The Wallace H. Coulter Science Center.
Other Experiences

Westminster's chemistry program places a strong emphasis on open-ended, independent projects. You can pursue collaborative projects with chemistry faculty during the academic year and during summers-even as an undergraduate. Undergraduate stipends are available for summer research so you can get paid while you learn. You can also co-author publications for major journals and make presentations at meetings of the American Chemical Society.

Career Opportunities
Extensive interaction with professors, availability of research opportunities, and ready access to chemical instruments give you an edge in gaining positions in laboratories, chemical industries, and pharmaceutical firms.
75% of Westminster chemistry majors continue more specialized studies in recognized masters or Ph.D. programs at schools such as Rice University, Washington University, Pennsylvania State University, the University of Illinois, the University of Arizona, and the University of Missouri.
Unique, personalized opportunities to gain insights into underlying principles of chemical phenomena through the development of a wide range of analytical and reasoning skills will provide you with a solid foundation for careers in health sciences and other scientific, technical, and professional fields.
Contact Information

Name: Dr. Bernie Hansert
Position: Associate Professor of Chemistry
Office: Room 325, Coulter Science Center
Email: Bernie.Hansert@westminster-mo.edu
Phone: 573-592-5216

Meet the Faculty

Bernhard Hansert, Associate Professor of Chemistry
Bharat Dhital, Visiting Assistant Professor of Chemistry
Chemistry News

Check out what Westminster accounting students and alums are doing and get accounting department updates.
Chemistry News