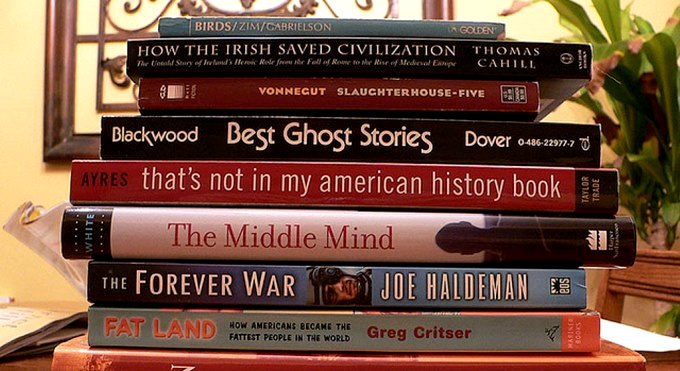 For English major and minor requirements, please visit the course catalog. 
English at Westminster
Liberal arts in real time.
Question: What can I do with my Westminster English major?
Answer: Anything.
English majors at Westminster College go on to careers and graduate school in a variety of fields including law, medicine, journalism, media, politics, government, and teaching.  They apply the liberal arts to the real world, in real time.
Understanding the literary expressions of diverse cultures creates empathy and intellectual vigor, qualities that are in high demand in today's swiftly changing global contexts.  
We have to make ethical and pragmatic decisions about the design and implementation of social institutions, government, and international policy in real time and with limited information.  We have to be alert in unpredictable situations.   Often, we have to improvise.
Our English majors are developing these essential skills in the classroom, in internships, and in their research.  They are learning to think and act with discernment. 
Westminster English majors use their degrees to do anything—and everything. 
About the Department
The Westminster College English Department provides a fundamental background in literary study: British, American, and World literature; creative performance in every genre; extensive training in writing and critical theory; journalism and digital/media studies; and ample interdisciplinary explorations.
The study of Literature at Westminster exposes students to the history of language and creative expression across cultures and time periods. Students learn to investigate unfamiliar ways of thinking as they learn to read closely and critically. Class discussions contextualize literary works through the prisms of history and culture, offering students the opportunity to test their ideas in a challenging and supportive setting. Our faculty emphasize preparation and participation so that students will fully immerse themselves in the literary experience. Literature students at Westminster learn to read a variety of texts as they develop skills of empathy and nurture their own intellectual curiosity. As their minds respond to those texts, they learn to write with confidence and clarity. They become skilled researchers who contribute personally to the scholarly conversation about literature. When they turn their attention to the world around them, they do so with heightened awareness and the creative capacity solve problems.
Creative Writing at Westminster empowers students to discover language that skillfully evokes their experiences and ideas. In Fiction, Poetry, Creative Nonfiction, and Playwriting courses, students engage in a writing practice that strengthens their attention to the world, encourages them to make nonlinear associative leaps, and allows them to draw upon knowledge usually buried in memory or the unconscious mind. Creative writers at Westminster challenge themselves to recognize subtle effects of sound, image, tone, and form in a diverse array of published literary works, even as they practice achieving those effects in their own work. Above all, they engage in what Robert Frost calls "play for mortal stakes"—that process of discovering what's significant through spontaneity, attention, and craft.
Learning Objectives for the English Major
Students will demonstrate the ability to read closely, think critically, write clearly, and express themselves orally through discussions and presentations.
Students will demonstrate an understanding of a wide range of literary works in English that include a diversity of authors, subjects, genres, styles, historical periods, and social contexts.
Students will demonstrate an understanding of major critical approaches to the interpretation of literature.
Students will write original creative work and develop an enhanced critical appreciation of the creative process generally and creative literature in particular.
Students will demonstrate a broader appreciation of the use of language and of forms of expression beyond literary study, such as linguistics, journalism, music, and film.
English Programs
The Westminster English Department offers four variations of the English major:
The basic English major. This track offers a strong foundation in literary surveys, basic writing courses, and upper level seminars along with broad elective choices that appeal to the student's tastes.
An English major with a Literature Concentration. This track is similar to the basic English major with additional focus on specific literary genres or modes at the upper levels. Students in the Literature track who meet grade qualifications are eligible to write a critical Honors Thesis in their senior year.
An English major with a Creative Writing Concentration. This track also provides strong grounding in the study of literature through surveys and upper level courses with additional focus at the upper levels on creative writing in poetry, fiction, and non-fiction. Westminster's creative writing journal, Janus, offers students outstanding experience in writing, editing, and publication. Students in the Creative Writing track who meet grade qualifications are eligible to write a creative thesis in their senior year.
An English major with an Education Concentration. This track is designed for students who plan to teach and who are double majoring in Secondary or Elementary Education. They will work with both the English and Education Departments toward a dual degree that prepares them to become English teachers. Courses in this track satisfy certification requirements of Missouri's Department of Elementary and Secondary Education.
Westminster English Faculty
The Westminster English faculty is committed to the idea that the study of literature creates compassionate humanists who have essential creative and critical thinking skills. 
We are a group of dedicated teacher-scholars who provide personal mentorship and intellectual guidance to our students.  As scholars, we maintain lively connections to our fields of expertise in order to create rich experiences in the classroom.  Through publications and presentations within the scholarly community, we open up the study of literature by keeping students actively linked to literary discussions and trends beyond the campus environment. 
The Westminster English department also brings guest speakers and creative readers to campus to promote the appreciation of literary study for the entire college community.
See faculty profiles.
Theresa Adams, Professor English
Heidi Lavine, Associate Prof. English
Nathaniel Leonard, Assistant Prof. English
Carolyn Perry, Professor English
Maureen Tuthill, Associate Prof. English