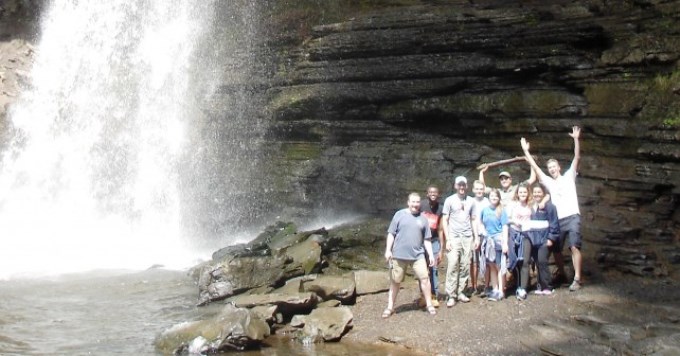 Why minor in Geology at Westminster?

Do you like the rocks and fossils, adventures, challenges, hands-on experiences, and the outdoors? If so, then a geology minor at Westminster might be a good fit for you. The Westminster geology minor has rapidly expanded and grown into an exciting program that engages students and provides them with a valuable education. Geology is a very broad, important, and practical physical science. Thus, learning about geology provides students with a more comprehensive understanding of the relationship between humans and Earth. No other time in human history than now, has it been more important that we understand the various processes responsible for shaping and changing our planet.

Courses and Hands-On Experiences
Geoscience courses at Westminster vary from environmental geology to paleontology. Applied skills are acquired in courses like GIS, Geology Summer Field Course, and other upper-level classes. Furthermore, students take field trips to local and regional localities where they apply knowledge and skills in the field. Opportunities for undergraduate research are abundant, and challenging. Conducting an independent undergraduate research provides a competitive edge when applying for graduate schools.
Westminster geology minors learn to sample, analyze, and interpret various geologic materials during in-class projects. Students have traveled to southeast Missouri and central Arkansas to learn about the geologic history and importance of the Ouachita and Ozark physiographic regions. Every summer, students are led to northwest Nebraska and South Dakota to prospect, excavate, and recover fossil specimens. Additionally, students have attended the regional Rocky Mountain Geological Society of America conference to present their research and tour Yellowstone National Park.

Contact Information

Name: Dr. David Schmidt
Position: Assistant Professor of Environmental Science
Office: Coulter Science Center 220
Email: David.Schmidt@westminster-mo.edu
Phone: 573-592-6124