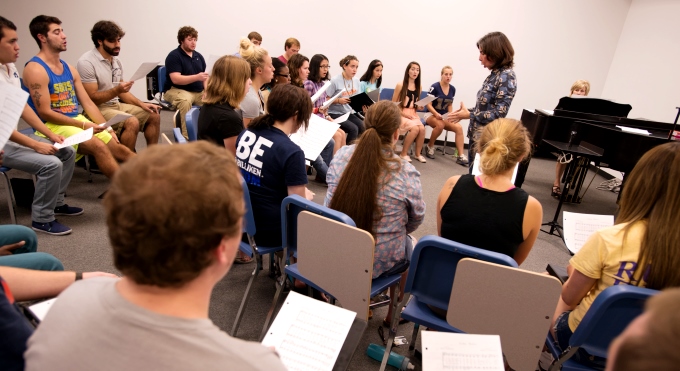 For requirements, please visit the course catalog.

Why get a Music Minor?
Music at Westminster integrates applied performance, acquired knowledge in history and theory, and interpretive analysis within the academic liberal arts framework. Not only do music courses develop artistic expression and critical appreciation, but students enrolled in Westminster music courses also synthesize those skills throughout their college learning experience. Through private lessons, choral ensembles, and history, literature, and theory courses, students are challenged to communicate effectively, reason critically, solve problems, and to work collaboratively. Music courses are designed to develop the judgment, analytic capacity, and expressive integrity that will enable all students to act as purveyors and transmitters of the musical arts throughout their lives.
Students may enroll in private lessons as well as participate in choral ensembles; here they will build upon their skills and interests through study, rehearsal, and performance of diverse music styles and genres. Private instruction is open to any student wishing to advance their musical proficiency. Each credit hour in private instruction includes a one-half hour lesson per week.

Contact Info

Contact: Dr. Natasia Sexton
Phone: (573) 592-5214 Fax: (573) 592-5217
Email: natasia.sexton@westminster-mo.edu

Music News

Check out what Westminster music students and alums are doing and get music department updates.

Music News