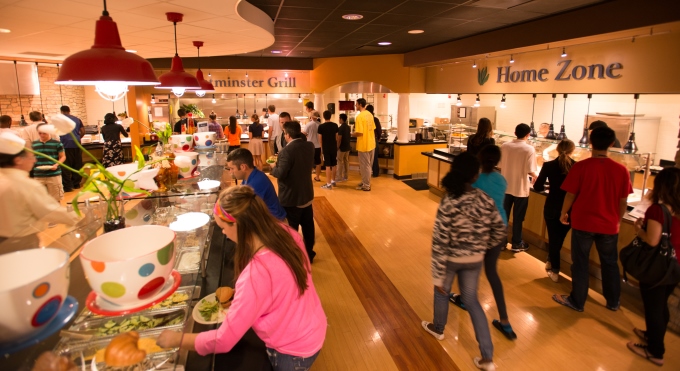 All students who are living in one of the residence halls must participate in an approved meal plan that includes an unlimited number of seconds, with the exception of steak or similar premium entrees.

Meal Plan Options
19 Meal Plan:
Entitles you to all 19 weekly meals and includes $100.00 Blue Jay Bucks.
15 Meal Plan:
Entitles you to any 15 of the 19 weekly meals and includes $75.00 Blue Jay Bucks.
10 Meal Plan:
Entitles you to any 10 of the 19 weekly meals and includes $50.00 Blue Jay Bucks.
Blue Jay Bucks are provided by Fresh Ideas and can be used at allotted times at JCI or the Dining Hall by students.
Fresh & Go Meal Exchange Option
Our Fresh & Go items are convenient for students on the go. Students with meal plans may carry out one container of food from the Dining Hall during specified breakfast hours (students carrying out meals may not eat in the Dining Hall at this time) and is the equivalent of one meal swipe. Fresh &Go will be offered in the Dining Hall during the breakfast meal hours of 7:00-9:30am. Meal exchange will be available for lunch in the JCI from 11:00am - 2:00pm.
Special Meal Blocks
Students may also purchase blocks of 50 and 80 meals which may be used anytime in Mueller Leadership Hall.
50 meals: $340.00
80 meals: $520.00
Students required to be on a college meal plan (19, 15, or 10) cannot purchase a meal block in exchange for the college meal plan.
Selecting and Changing Your Meal Plan
Unless the student notifies the Office of Student Life differently, the student will be placed on the 19-meal plan. Students may change meal plans on a semester basis until
the seventh day of classes at which time changes for the semester cannot be made
.
Please see Residential and Greek Life Office, 327 W. 7th Street, for changes or questions regarding your meal plan or meal block. Changes to meal plans must be made in person.
2014-2015 Meal Calendar