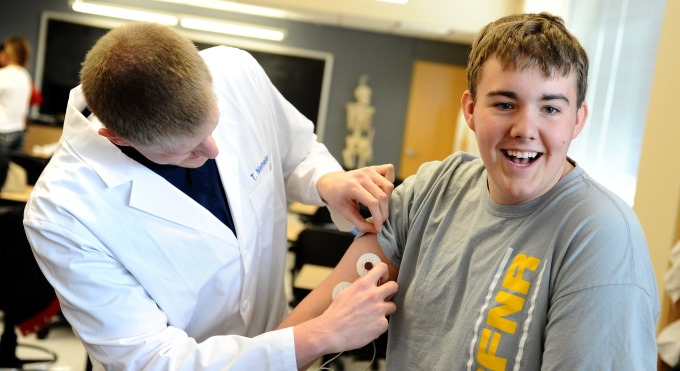 Why Study in the Dual Degree in Nursing Program at Westminster?
Students have the opportunity to complete both an undergraduate, liberal arts degree (BA) at Westminster College and a degree in nursing (BSN) from the Goldfarb School of Nursing at Barnes-Jewish College (GSON) in St. Louis.
Students may qualify for one of two programs: (1) the 3-2 program, in which they complete three years at Westminster and two years at GSON through the Upper Division Option; and (2) the 4-1 program, designed for students who wish to spend four years at Westminster and one year completing the Accelerated BSN option at GSON.
Program Highlights
Students will be able to earn a BA from Westminster College and a BSN from GSON in approximately five years.
Westminster College, a selective, independent, four-year co-educational residential college, offers students a dynamic liberal arts and sciences education. Classes are interactive, seminar-style, with an average of 16 students per class. Students may earn a BA major in Biology, Exercise Science or Health & Wellness while participating in the dual degree program.
The Goldfarb School of Nursing at Barnes-Jewish College is a world-class teaching and research campus that is part of the Washington University Medical Center.
Students will complete their clinical experiences at Barnes-Jewish Hospital and St. Louis Children's Hospital, as well as at other BJC HealthCare Hospitals and St. Louis metropolitan area health care facilities.

Cool Classes/Experiences
Students will learn anatomy by dissecting cadavers in their Human and Gross Anatomy courses. Learn more about the cadaver program here.
Students will also have the opportunity to conduct independent research projects with faculty members in Westminster's Biology Department.

Career Opportunities
The vast number of positions available for nurses is an advantage in the nursing career. A nurse can find employment in any number of areas and find a job that suits his/her needs.
Nurses are able to find employment in positions dealing directly with patients in either inpatient or outpatient care.
Nurses are also able to work in administration, education, the insurance industry, and many other areas as well. Nurses can always find a job that will suit their needs.
As the population ages, many more nurses will be needed in the healthcare field, adding to the number of positions already available. There is no doubt that there will always be a great need for nurses.
Quotes from Program Coordinator
"Our dual degree in nursing program offers our students the opportunity to earn a BA from an outstanding liberal arts college and a BSN from a world class nursing school - all within five years!" Dr. Michael Amspoker.

For more information, contact:
Dr. Michael Amspoker, Coordinator of the Health Professions Program
CSC 205
Mike.Amspoker@westminster-mo.edu
573 592-5274